Spiced Apple Liqueur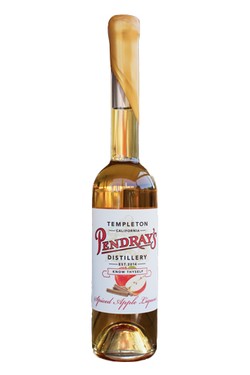 Pendray's sourced Granny Smith and Fuji apples from the Apple Hill district of California nestled in the foothills of the majestic Sierra Nevada mountains. Sweet, tangy, warm and simply delicious. Mix it with some bubbly water over ice for a refreshing summertime sipper or add a splash to your favorite whiskey for a little late-night indulgence. Any way you choose, we hope you thoroughly enjoy it!
Product Reviews
Florence Staley
(Feb 28, 2021 at 10:46 AM)
Add a measure to a cup of hot cider—delicious on a cold evening. When cummerbund Delicious. Add to a mug of hot cider—delicious. Great on a cold night. When summer arrives, I will try adding to a tumbler of cold cider.
Aaron A
(Apr 28, 2021 at 4:51 PM)
A huge fan of the plum, I'd been forced to try several other flavors as the plum has been unavailable for some time now. I was pleasantly surprised with with the spiced apple. If you've never even given it a thought, I highly recommend a tasting of it or just buying a bottle online. This drink isn't just a cold evening drink. I now find it even replacing my evening old fashioned or rum and coke after a long day at work. It's absolutely perfect and a long day and you find yourself settling down for the evening. Packed full of flavor while still reminding you that you've got a drink in your hand. Well done guys!