Vertical Tasting & Dinner Event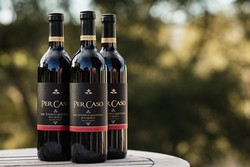 Evening Vertical Tasting Event & Dinner!
Join us Saturday, June 25, 2022, for an evening of wine, cheese, and dinner. We will be hosting a special vertical tasting of our Iberian wines and port dating back to 2010. We have selected an array of gourmet cheeses to pair with this unique tasting.
Our owner and winemaker, Steve, will lead this tasting and talk about each wine's vineyards, harvest, and bottling, describing the style of wine and the nuance each wine conveys in the glass and pairing recommendations. $60 per person. Dinner and wine will be served after the vertical tasting.
When: Saturday, June 25, 2022
Time: 6pm - 8pm (starts at 6pm)
PasoPort - 95 Booker Road
Limited to 30 Guests
Product Reviews