After the Kids Go to Bed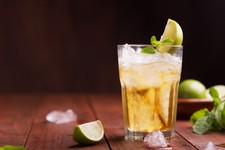 Recipe Date:
March 13, 2021
Measurements:
Imperial (US)
Brandy, Lime & Maple syrup make a sweet & tart little drink to have after the kids are all tucked in.
Ingredients
2 ozs Pendray's Brandy
1/2 oz Lime juice
1/2 oz Maple Syrup
Directions
Combine all ingredients in cocktail shaker with ice. Shake & strain into highball glass. Sip & relax!