Almost Summertime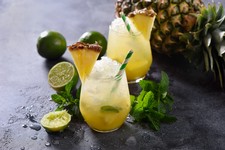 Recipe Date:
June 26, 2021
Measurements:
Imperial (US)
Enjoy this tropical cocktail anytime of year. Instantly transport yourself to a summer vacation with this Orange Liqueur based drink.
Ingredients
2 ozs Pendray's Orange Liqueur
1 oz Silver Tequila
1 1/2 ozs Pineapple Juice
Sparkling Water
Lime- cut into wedges
Directions
Fill high ball glass with ice. Pour in Orange Liqueur, Tequila and Pineapple juice. Stir. Then squeeze lime into drink and top off with Sparkling water.