Caffe Corretto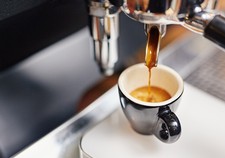 Recipe Date:
December 19, 2020
Measurements:
Imperial (US)
Caffè corretto, an Italian beverage, consists of a shot of espresso with a small amount of grappa. It is also known as an "espresso corretto".
Ingredients
1 Shot of freshly ground espresso
1 Shot of Pendray's Grappa
Sugar
Directions
Combine Espresso and Grappa. Add sugar to taste.