Pendray's Walnut Alexander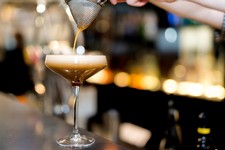 Recipe Date:
January 17, 2020
Measurements:
Imperial (US)
A twist on the classic Brandy Alexander, we use our Pendray's Brandy, Walnut Liqueur and Creme de Cacao shaken with heavy to cream to create a tasty dessert cocktail.
Ingredients
1 1/2 ozs Pendray's Walnut Liqueur
1 oz Pendray's Brandy
1/2 oz Dark Cream de Cacao
1 oz Heavy Cream
Grated Nutmeg for garnish
Directions
Add all ingredients to a cocktail shaker with ice and shake vigorously. Fine strain into a chilled martini glass and garnish with desired amount of grated nutmeg.
Enjoy!