Opening Older Vintages of Wine and Port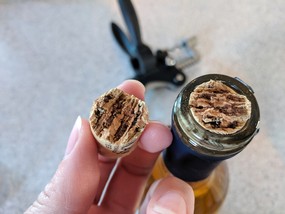 Natural cork for sealing wine bottles is the product of the bark of the oak species Quercus suber. It has great elastic qualities which make it an ideal closure for wine, and as a natural product, it allows the slow migration of oxygen into the wine allowing it to develop into an aged product with desirable aroma and flavors. Unfortunately, as a natural product, it is prone to lose its elasticity and become brittle over a long period of time in the bottle. This can result in the frustrating circumstance of corks breaking off while an individual is attempting to remove it from the bottle. For any serious wine drinker, this is a familiar occurrence. You've taken the time to carefully age a wine or spent a good deal of money on an older bottle only to be left trying to dig the remnant out of the neck of the bottle. What can be done? Well, here are a few tips on removing a cork from bottles that are at least ten years or older.
Which opener is best..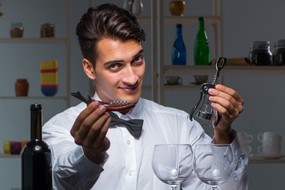 First, not all corkscrews are made the same. The winged-style corkscrews are notorious for drilling a hole right down through the cork without ever really "grabbing" the cork sufficiently to properly remove it. Likewise, cheap renditions of the waiter-style corks screws have the twists of the screw too close together, so it does not grab the cork adequately either. A quality waiter's corkscrew will have the turns of the screw spaced more widely apart to grab, but not drill into the cork.
How to properly open..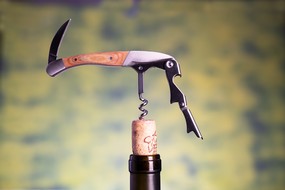 Care must be taken to make sure the screw tine is not put in at an angle to rupture through the side of the cork. Also, a common mistake is to not FULLY insert the screw into the cork before attempting to pull it out. Often the tine is partially inserted and then pulled before moving it further inward. This works for a young elastic cork, but it fractures an older cork at the point where the tine ends inside the cork. Also, don't just try to pull the cork all the way from one spot. Initially break the adherence of the cork from the bottleneck by pulling it slightly, then move the corkscrew around the bottle pulling evenly a little at a time. When the cork is sufficiently loosened, it should come out in one piece. Remember, it's been in the bottle for a decade or more, be patient, be gentle, and don't force the removal.
Recommended Opener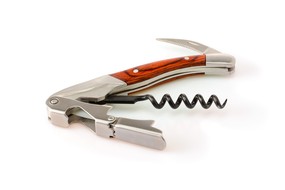 If you enjoy the properties of an older bottle of wine, make the investment in a quality corkscrew. It may cost you upwards of $50, but it is a worthwhile investment in your wine enjoyment experience.