Apples & Oranges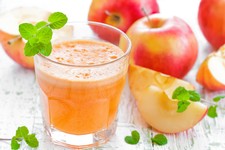 Recipe Date:
August 23, 2021
Measurements:
Imperial (US)
Delicious & crisp, this fruity cocktail is full of flavor & fun. Perfectly balanced, not too sweet, with bold flavors of oranges & apples!
Ingredients
1 1/2 ozs Pendray's Apple Brandy
1/3 oz Dry Gin
1/2 oz Fresh Lemon Juice
2 Dashes Orange Bitters
Fresh Orange Peel
Ginger Ale
Directions
Combine Apple Brandy, Dry Gin, Lemon Juice, Orange Bitters and Orange Peel in cocktail shaker. Shake with ice & strain. Top off with splash of Ginger Ale and garnish with apple slice and orange peel.