Apricot Blossom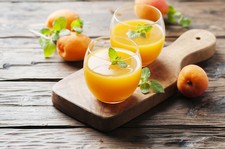 Recipe Date:
April 17, 2021
Measurements:
Imperial (US)
The Apricot Blossom cocktail is light & refreshing, perfect for spring!
Ingredients
1 oz Pendray's Apricot Liqueur
1 oz Medium Bodied Rum
1/4 oz Simple Syrup
1/2 oz Fresh Lemon Juice
1/4 oz Orange Bitters
4 Fresh Mint Leaves
1 Pinch of Cinnamon
Directions
Put all ingredients in cocktail shaker. Muddle everyhitng with mint. Then add ice, shake & strain into glass with ice. Garnish with Apricot slice and mint leaf.