Chocolate Pots de Crème with Pendray's Walnut Liqueur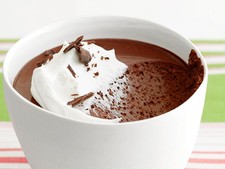 Recipe Date:
November 15, 2021
Measurements:
Imperial (US)
Try this rich, decadent, and nutty dessert who's pure chocolate flavor and smooth texture are sure to please everyone at the table! Topped with Walnut Liqueur whipped cream and paired with PasoPort Angelica aged white port.
Ingredients
1 1/2 cups Whole milk
2 cups Heavy whipping cream
6 Large egg yolks
5 tbsps Granulated sugar
1/4 tsp Salt
9 ozs Bittersweet chocolate
1/4 tbsp Pendray's Walnut Liqueur
1 tbsp Confectioner's sugar
Fresh strawberries (optional)
Fresh Raspberries (optional)
Directions
Whisk the milk, 1 cup cream, egg yolks, granulated sugar and salt in a heavy-bottomed medium saucepan over medium heat. Cook, stirring constantly, until the mixture is thick enough to coat the spatula and almost boiling, about 5 to 6 minutes.
Place chocolate in a blender. Immediately pour the milk mixture over the chocolate in the blender. Cover and hold the lid with a thick kitchen towel; blend until combined and smooth. Add 2 Tablespoons Pendray's Walnut Liqueur to the chocolate mixture and mix until combined. Divide the chocolate mixture among ramekins or small cups and refrigerate until set, about 2 hours.
Whip the remaining 1 cup cream, 2 tablespoons Pendray's Walnut Liqueur and confectioners' sugar with a mixer until soft peaks form. Top the chilled pots de crème with whipped cream and fresh fruit.
Pair with PasoPort's Angelica port