Filet Mignon with Port Wine & Blue Cheese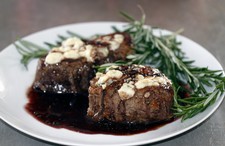 Recipe Date:
March 1, 2022
Measurements:
Imperial (US)
Ingredients
2 tbsps butter
2 cloves minced garlic
1 tbsp fresh thyme
1 cup Violeta Port
4 Filet Mignon Steaks- thick cut
3/4 cup Blue cheese crumbles
Directions
Season both sides of steaks with course ground salt and pepper and set aside. Melt butter in a cast iron or oven safe skillet over medium heat. Add garlic and thyme. Cook until garlic is tender. Remove garlic and thyme mixture from pan and set aside.
Preheat the oven to 400 degrees F. Heat olive oil in the same oven-safe skillet over high heat. Sear steaks quickly on both sides until brown, then place the whole pan into the oven. Roast steaks in the oven for about 10 minutes for medium rare. The steaks should be rare when removed from the oven.
Remove the steaks from the pan and set on a plate or dish and cover with foil (the steaks will continue to cook to medium rare under the foil). Place the skillet back on the stove over medium-high heat. Add 1 cup of Violeta Port and scrape the browned bits from the bottom of the pan. Reduce the port to ½ cup and add the garlic and thyme mixture along with the crumbled blue cheese. Stir until the ingredients are mixed together and the blue cheese crumbles have started to melt (about 2-3 minutes).
Remove the skillet from the stove. Place each steak on a serving plate and drizzle with the Port and blue cheese reduction. Serve with roasted vegetables and a glass of Violeta Port!