Irish Apple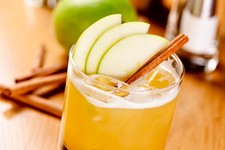 Recipe Date:
October 22, 2020
Measurements:
Imperial (US)
Our Apple Brandy mixed with Irish Whisky, lemon, simple syrup and a pinch of cinnamon will make you feel like autumn is all around. We love this paired with some blue cheese and crackers!
Ingredients
1 1/2 ozs Pendray's Apple Brandy
1/2 oz Irish Whisky
1/2 oz Fresh Lemon Juice
1/4 oz Simple Syrup
1 Pinch of Cinnamon
Directions
Combine all ingrediants in cocktail shaker. Shake with ice. Strain into higball glass. Garnish with cinnamon stick and apple slices. Sip & Enjoy!