Moon River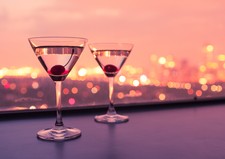 Recipe Date:
July 17, 2020
Measurements:
Imperial (US)
This dreamy cocktail is light and refreshing. Floral and citrus notes are the perfect companion to this summertime drink.
Ingredients
1 1/4 ozs Apricot Liqueur
1/4 oz Pendray's Orange Liqueur
1 oz Dry Gin
1/2 oz Elderflower Liqueur
1/2 oz Fresh Lemon Juice
Directions
Add all ingredients to cocktail shaker. Shake with ice, and strain into cocktail class. Garnish with a Maraschino cherry.