Pendray's Walnut Liqueur Browines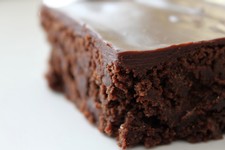 Recipe Date:
November 16, 2020
Measurements:
Imperial (US)
Made with Pendray's Walnut Liqueur, these brownies are rich, gooey and decadent! Topped with a chocolate & Walnut Liqueur buttercream frosting....these will satisfy every sweet tooth. Serve with a glass of Pendray's Walnut Liqueur and enjoy.
Ingredients
1/2 cup Butter
1 cup Sugar
2 Eggs
1 tbsp Pendray's Walnut Liqueur
1/3 cup Unsweetened Cocoa Powder
1/2 cup Flour
1/4 tsp Salt
1/4 tsp Baking Soda
*****Frosting*****
3 tbsps Butter - Softened
3 tbsps Unsweetened Cocoa Powder
2 tbsps Pendray's Walnut Liqueur
1/2 tsp Vanilla
1 cup Confectioners Sugar
Directions
Preheat oven to 350 degrees F (175 degress C). Grease and flour an 8-inch square pan.
In a large saucepan, melt 1/2 cup butter. Remove from heat and stir in sugar, eggs and Pendray;s Walnut Liqueur. Beat in 1/3 cup cocoa, 1/2 cup flour, salt and baking powder. Spread into prepared pan.
Bake in preheated oven for 25 - 30 minutes. Do not over cook.
To make frosting: Combine 3 tablespoons softened butter, 2 tablespoons cocoa, 2 tablespoons Pendray's Walnut Liqueur, 1/2 teaspoon vanilla and 1 cup confectioners' sugar. Stir until smooth. Frost brownies while they are still slightly warm.
Enjoy!