Pendray's Old Fashioned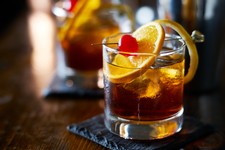 Recipe Date:
December 3, 2021
Measurements:
Imperial (US)
The warmth of the Bourbon mixed with the sweetness of the Amaro Liqueur, the tart lemon juice and a bit of spice from the bitters is the perfect concoction. Our favorite way to end the evening.
Ingredients
2 ozs Pendray's Amaro Liqueur
1 1/2 ozs Bourbon
1/2 oz Lemon Juice
Directions
Combine all and shake with ice. Strain into glass with ice, garnish with orange peel and Maraschino cherry, sip and enjoy!