Pendray's Plum Spritz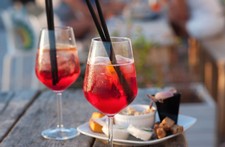 Recipe Date:
June 20, 2020
Measurements:
Imperial (US)
This easy to make cocktail highlights one of our more popular Pendray's spirits. Our Plum Liqueur has been a customer favorite since it's debut in our distillery. Mixing the Plum with high-end vodka, cranberry juice and bitters is a great way to celebrate any occasion. Top it all off with some sparkling water for the perfect effervescent spritz!
Ingredients
3 ozs Pendray's Plum Liqueur
1 oz Vodka
1 1/2 ozs Cranberry Juice
3 Dashes Bitters
Sparkling Water
Directions
Combine in shaker, Plum Liqueur, Vodka, Cranberry juice, 3 dashes bitters. Shake with ice and strain into glass. Finish with a splash of sparkling water.
Sip and Enjoy!