Pendray's Sidecar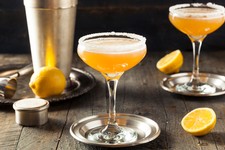 Recipe Date:
February 13, 2021
Measurements:
Imperial (US)
The exact origin of the 'Sidecar' Cocktail is unclear, but it is thought to have been invented around the end of World War I in either London or Paris. The drink was directly named for the motorcycle attachment. With Pendray's Brandy and Orange Liqueur you can not go wrong with this old classic!
Ingredients
1 oz Pendray's Brandy
1/2 oz Pendray's Orange Liqueur
1/2 oz freshly squeezed lemon juice
Directions
First, rub the edge of a cocktail glass with a lemon wedge. Dip the rim of the glass into pulverized white sugar. Pour the ingredients of the cocktail into cocktail shaker with ice. Shake & strain into the prepared cocktail glass, and garnish with the large lemon peel.