Red Wine Braised Short Ribs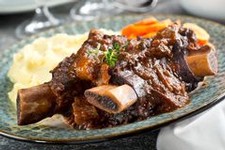 Recipe Date:
February 7, 2022
Measurements:
Imperial (US)
Ingredients
3 lbs Beef short ribs, boneless
2 tsps salt and black pepper
1 head Garlic, minced
1 sprig fresh Rosemary, chopped
1 sprig fresh thyme, chopped
1 cup low-sodium broth
1 Per Caso Red Wine, Such as Syrah, RHN, or BDX
___________________________
1 1/2 cups Cornmeal
1 tsp salt
3 tbsps Butter
1 cup Milk
1/3 cup Parmesan cheese, grated
2 cups Water or chicken stock
Directions
INSTRUCTIONS
Heat oven to 475 degrees.
Put the ribs on a large rimmed baking sheet. Rub all sides liberally with salt and black pepper.
Roast ribs in the oven about 20 minutes, until they're sizzling and forming a brown crust. Transfer to a roasting pan large enough to hold the ribs in one layer. Turn the oven down to 250 degrees.
Pour 1/2 cup of wine onto the baking sheet and scrape up any brown bits, then pour it all over the ribs. Add the remaining wine and broth. Toss in the garlic and herbs.
Cover the pan tightly with foil or lid and return to the oven for about 4 hours, until the meat is very tender and breaks apart easily with a fork. Remove from the oven and let the meat rest, covered, for 20 minutes. Shred the ribs and add them back to the pan to soak up all juices.
To make the polenta, bring the milk and water (or chicken stock if using) to a boil in a 2 or 3-quart heavy pot. Add 1 teaspoon salt and slowly stir in the polenta a little at a time to avoid lumps.
Turn the heat down to low and cook, stirring frequently until the polenta thickens, about 25 minutes. Stir in the butter and cheese. Cover and keep warm until serving.
Place the desired amount of polenta in a bowl and top with shredded ribs and enjoy!