Spiced Pear Brandy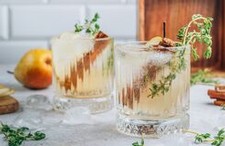 Recipe Date:
January 28, 2022
Measurements:
Imperial (US)
Ingredients
1 1/2 ozs Pendray's Brandy
1 oz Pear Juice
3/4 oz Spiced Pear Liqueur
1/2 oz Lemon Juice
1/4 oz Allspice Dram
Slice of Pear or Sprig of Thyme
Directions
Add all ingredients to a cocktail shaker filled with ice. Shake vigorously and strain into a glass with desired amount of ice. Garnish with a slice of pear or a fresh sprig of thyme.
Enjoy!