Templeton Sunset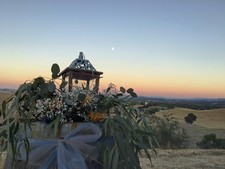 Recipe Date:
October 10, 2021
Measurements:
Imperial (US)
This is a visually stunning cocktail that is bound to impress! The perfect balance of sweet Plum Liqueur, the strength of Templeton Rye Whisky, bright citrus notes and just a hint of herbaceous sage is the secret to this drinks success. The colors will remind you of a sunset you'd see from the top of the hill here at Pendray's Distillery in Templeton, CA.
Ingredients
2 1/2 ozs Pendray's Plum Liqueur
1 1/4 ozs Templeton Rye Whisky
1 oz Fresh Squeezed Orange Juice
3 Sage Leaves
Long twist of Orange peel
Directions
Tear the sage leaves and place in cocktail shaker. Add the orange juice and whisky with the sage and shake on ice. Strain into highball glass, then top off with the Plum Liqueur. Use the orange peel for garnish.