The Fall Flannel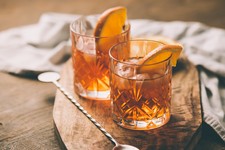 Recipe Date:
October 19, 2020
Measurements:
Imperial (US)
Fall is the time for sipping cocktails by the fire, and The Fall Flannel is the perfect drink for that!
Ingredients
2 ozs Pendray's Apple Brandy
1/4 oz Pendray's Orange Liqueur
1 oz Organic Pear Juice
1/4 oz Allspice Dram
2 dashes Orange Bitter
Directions
Combine all in cocktail shaker with ice. Shake & strain into highball glass. Garnish with Orange wedge if desired.