Blending Party - Dec 2
December 2, 2017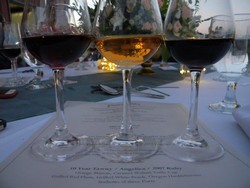 Join us for our Holiday blending party!
Saturday, December 2, 2017 -

6pm - 8pm
A unique experience for all. You will have the opportunity to be a winemaker for the evening by blending your own port. An educational seminar about each of the wines will be given by our winemaker. Come dressed in holiday attire, or an Ugly Christmas Sweater. Prizes will be awarded for the most 'Uniquely Themed Outfit'. Family style dinner will be paired with the blended wine/port, each series is limited to 16 guests. $45 pp.
Award for the best blend of the evening

Award for the most Unique Outfit(s)

Create your own blend, seal it with wax, name it and take it home

Family style dinner to accompany your blend

Limited to 16 guests. $45 pp

Time 6pm - 8pm